The world premiere of Doppelganger in New York's Park Avenue Armory - a staged version of Schubert's Schwanengesang with Jonas Kaufmann and Helmut Deutsch and directed by Claus Guth - has been enthusiastically received by public and press. Here are some voices:
'Doppelganger' is awesome experimental theater on a grand scale … There's really nothing like it in New York right now."
Theatermania
"a rare treat … the theatrical ingenuity and visceral force was so strong that the audience let out an audible gasp of shock"
New York Times
"Park Avenue Armory once again confirms that its Wade Thompson Drill Hall is the most sensational performance space in New York City with the world premiere of Claus Guth's bold and breathtaking Doppelganger ... Kaufmann is in terrific voice."
This week in New York
Photo (c) Monika Rittershaus
Arena di Verona Gala Concert
Role debut "La Gioconda" in Sydney
On August 9th and 12th Jonas Kaufmann was heard at the Sydney Opera House in two concert performances of Ponchielli's La Gioconda. This was his debut in the role of Enzo Grimaldi. His partners were Vitalij Kowaljow (Alvise), Agnieszka Rehlis (Laura), Saioa Hernández (Gioconda), the conductor Pinchas Steinberg (group photo from left to right). After the second performance, Kaufmann and Tézier gave a CD and book signing in the opera house.
The Munich production of "Chenier" on DVD and Blu-ray
"This fast-paced narrative with its realistic dialogue between characters and its emotional arch almost gives one the impression that Giordano would have liked to make a feature film, yet did not yet have the necessary technology at his disposal. In fact, at the same time as this opera was being written and premiered, film was also being born." With these words, director Philipp Stölzl also described an essential aspect of his production of Giordano's Andrea Chenier at the Bavarian State Opera: the stage is presented as a "split screen" that simultaneously shows the "upper and lower" social classes during the French Revolution. This December 2017 revival of the production, conducted by Marco Armiliato, was recorded and recently released on DVD and Blu-ray on the Bavarian State Opera's record label. "Jonas Kaufmann, Anja Harteros and George Petean shine in an imaginative yet faithful production by Philipp Stölzl. The then 78-year-old Brian Large proves once again that he is the best of all classical music videomakers." (Merker online)
For several months, I have been struggling with coughing and excessive mucus during my performances. This viscous secretion led to increased irritation when singing and to fatigue of the respiratory muscles. Various attempts to solve this issue were unfortunately unsuccessful, resulting in being repeatedly forced to cancel opera performances and concerts. Last week, I was diagnosed with a multi-resistant germ infection, and prescribed a high dosage of antibiotics with the corresponding possible side effects. The first concert after I started taking antibiotics (Waldbühne Berlin) went surprisingly well, but since Monday the side effects, which were initially only mild, have increased so much so that I'm not able to sing. Therefore, it will unfortunately not be possible for me to perform for the duration of the treatment, and so it is with a heavy heart that I have to cancel the performances in Paris, Aix-en-Provence and Regensburg. Although I am very disappointed, I am glad to have finally found the cause of this persistent issue, and now I only have to give my body the necessary rest to cope with this infection, in order to be completely healthy again.
Update from 24 July:
As I had very much hoped to be able to sing the recital on Tuesday, I met with Helmut Deutsch yesterday to go over our programme. Unfortunately, I came to the realization that I am not yet able to sing for an entire evening. The voice is fine, but I feel that my body has not yet recovered from the strong after-effects of the antibiotics and still needs rest. Therefore, unfortunately, I have no choice but to postpone the recital until next year.
Jonas Kaufmann
Great songs from classic movies have been a passion of Jonas Kaufmann throughout his life. His new album The Sound of Movies reflects the singer's fascination with a selection of popular hits, in a variety of languages, that spans from the Weimar-era Germany ("Ich küsse ihre Hand, Madame" from 1929) to "Bring Him Home" from the 2012 film of the global hit musical Les Misérables.
Kaufmann initially became enamored by cinema music via tenors Joseph Schmidt and Richard Tauber, as well as the sublime orchestrations of the great golden-age film composers like Erich Korngold and Max Steiner who were steeped in the heritage of Puccini and Strauss.
The album includes "Nelle tue mani" from Gladiator, Henry Mancini's "Moon River" from Breakfast at Tiffany's and Vangelis' title song from Conquest of Paradise, among others. Great musical hits are also represented: "Maria" from Leonard Bernstein's West Side Story, the title song from Singin' in the Rain and "You'll Never Walk Alone" from Carousel. And two evergreens by the American star tenor Mario Lanza: "The Loveliest Night of the Year" from The Great Caruso and "Serenade" from The Student Prince.
Jonas Kaufmann will take over as artistic director of the Erl Festival in Austria; he will succeed Bernd Loebe in September 2024. As Hans Peter Haselsteiner, President of the Tiroler Festspiele Erl (photo), announced at a press conference on 2 June in Vienna, Kaufmann prevailed over 42 other applicants.
With his vision, enthusiasm, personality and his stage experience, he convinced the appointment committee, which also included Lotte de Beer (director of the Vienna Volksoper) and Bogdan Roscic (director of the Vienna State Opera), and was chosen by them as "primus et unicus" for the appointment.
Jonas Kaufmann will usher in a new era for the Erl Festival, explained Andrea Mayer, State Secretary for the Arts and Culture. To have him "as the new artistic director of the Erl Festival is an extraordinary honour and reflects the festival's aspiration: international charisma and at the same time honoring the culture and history in the region."
As Kaufmann said at the press conference, his new task is by no means "a first step towards the singer's early retirement. I don't feel that I should retire, and I don't want to. I'm a person who likes to work a lot, so now I have another hobbyhorse to work on without having to be on stage every day."
To watch the recording of the press conference, click here.
Verdi & Verismo – the concert tour
Wagner Weekend: Tannhäuser and Walküre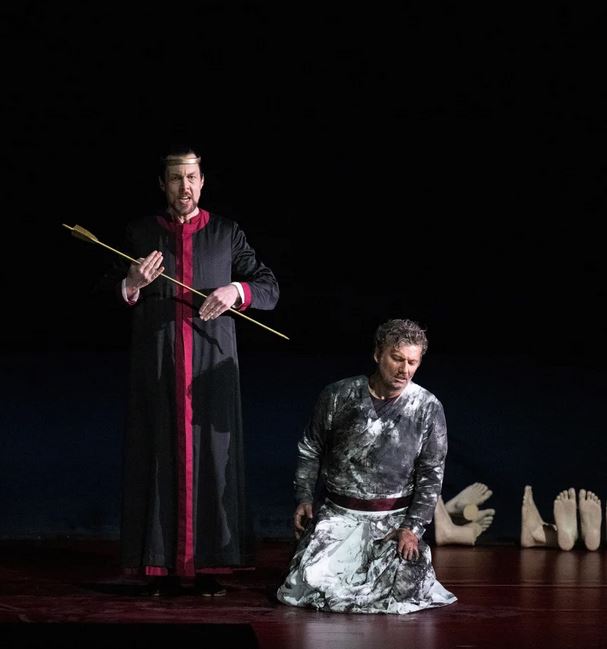 The radio recording of the Salzburg production of Tannhäuser, in which Jonas Kaufmann has sung the title role for the first time, will be broadcast on Saturday, April 15 at 7:30pm. The other leading roles will be performed by Marlis Petersen (Elisabeth), Emma Bell (Venus), Christian Gerhaher (Wolfram) and Georg Zeppenfeld (Landgraf Hermann); Andris Nelsons conducts the Gewandhausorchester Leipzig. On Sunday, April 16, Kaufmann will perform Siegmund in Die Walküre at the Teatro di San Carlo in Naples, with Okka von der Damerau (Brünnhilde), Vida Miknevičiūtė (Sieglinde), Christopher Maltman (Wotan), Varduhi Abrahamyan (Fricka) and John Relyea (Hunding); the conductor is Dan Ettinger. Additional performances are on April 20, 23, 26 and 29.